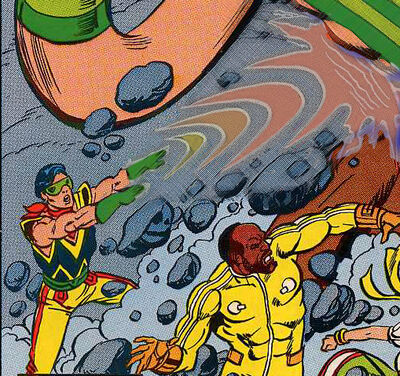 link Força
Base Cost 20
Alcance Normal
Tipo Dados
Vibe (Vibração) permite emitir feixes de energia vibratória que rechaçam o alvo.
Para disparos de longo alcance, usa-se AV APs de Weaponry ou Destreza e EV APs de Vibe. A OV/RV será Destreza/CORPO do inimigo. RAPs obtidos representam dano físico no oponente.
O personagem com este poder pode tentar um Trick Shot (+2 colunas) para atravessar a Skin Armor de um personagem. RAPs resultantes abaixam a Skin Armor do oponente pela metade na contagem do dano (arredondado para baixo).
O personagem também pode causar tremores no chão por usar o poder. Usa-se AV/EV APs de Vibe contra o volume de terra desejado em APs. RAPs conseguidos são adicionados a OV de todas as jogadas para oponentes no chão dentro do volume de terra afetado, afetando todos sem penalidades Multi-Attack. Estruturas firmadas no chão (como prédios), recebem dano sem penalidades Multi-ataque com AV/EV igual aos RAPs conseguidos. Se o usuário também tem a perícia Military Science (Demolition), ele pode usa-la para aumentar a AV ao tentar derrubar prédios com o poder. Por cada 1 AP de distancia longe do epicentro do tremor, a EV é diminuída 2 APs. Note que personagens dentro de prédios são afetados pela queda destes. O EV é igual ao peso dos escombros em APs; a AV é variável, dependendo do espaço que a vítima tem para se desviar (critério do GM).
Ad blocker interference detected!
Wikia is a free-to-use site that makes money from advertising. We have a modified experience for viewers using ad blockers

Wikia is not accessible if you've made further modifications. Remove the custom ad blocker rule(s) and the page will load as expected.