Atributos
Edit
Destreza 8/17 Força 28 Corpo 25
Inteligência 11 Vontade 20 Mente 15
Iniciativa 49 Hero Points 250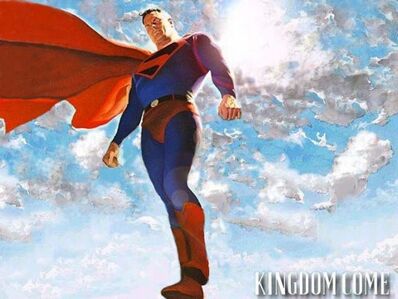 Extended Hearing: 8 Flight: 22 Heat Vision: 16 Invulnerability: 25 Microscopic Vision: 18, Recall: 7 Sealed Systems: 16 Super Breath: 12 Superspeed: 9 Systemic Antidote: 19 Telescopic Vision: 13 Thermal Vision: 13 X-Ray Vision: 13 Power Reserve 8 Energy Absorption 4 Solar Sustenance 17, Suspension 6
bonus: Power Reserve pode ser usado em atributos físicos e todos os poderes.
limitação: Power Reserve deve ser alimentado por Energy Absorption, e Superman deve dividir os APs entre pelo menos 4 poderes ou atributos por vez; Energy Absorption só absorve energia solar. Atualmente ele só pode usar este poder se ficar muito próximo ao sol da Terra ou ser atingido por Energy Blast baseado em energia solar (como os de Ray, Doutora Luz, ou o bastão de Starman). Suspension só permite simular um estado de morte aparente (Os APs servem como OV/RV na tentativa de alguém usando Medicine tentar descobrir se ele está mesmo morto)
Artist (Writer): 5 Charisma (Persuasion): 15 Gadgetry 7, Scientist 10
vantagens:
Area Knowledge: Terra
Connections: Batman (Terra 22): baixa, Liga da Justiça (Terra 22): alta, Sociedade da Justiça (nosso mundo) (alta), Expansive Headquarters (Fortaleza da Solidão), Leadership, Lightning Reflexes, Popularity, Sharp Eye, Scholar (cultura de Krypton) Languages (todas as línguas da Terra, Kryptoniano, Interlac), Genius.
desvantagens
Age (velho), Attack Vulnerability: -4 colunas na RV contra magia, Guilt (destruição do Kansas), Secret Identity
Notas: Devido a tantos anos acumulando energia solar, Superman não tem mais a vulnerabilidade a kryptonita e falta de exposição ao sol amarelo. É desconhecido se Superman ainda tem Connections com a ONU e a Casa Branca.
Histórico
Edit
Veja Reino do Amanhã
Ad blocker interference detected!
Wikia is a free-to-use site that makes money from advertising. We have a modified experience for viewers using ad blockers

Wikia is not accessible if you've made further modifications. Remove the custom ad blocker rule(s) and the page will load as expected.