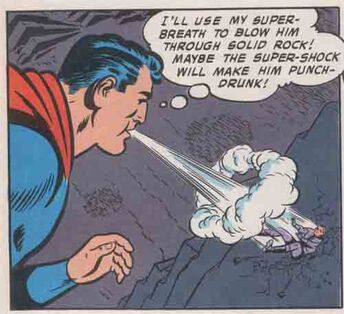 Link
FORÇA
Base Cost 10
Factor Cost 4
Alcance Normal
Tipo Dados
Permite exalar um poderoso sopro que pode arremessar alvos. O personagem pode atacar todos os alvos dentro de um cone de 1 AP de largura com o sopro, sem penalidades Multi-Attack. Faz-se ataques com AV/EV APs de Superbreath e OV/RV Dex/CORPO de cada alvo separadamente dentro deste cone. Entretanto, o ataque não causa dano direto; ao invés, as vítimas são projetadas para longe a uma distância igual aos RAPs conseguidos menos o peso (em APs) e recebem dano por Knockback .
Nota: Knockback devido a Superbreath é considerado Killing Combat, mas o jogador não é penalizado na distribuição de Hero points há menos que alguma das vítimas morram.
Kryptonianos tem este poder.
Ad blocker interference detected!
Wikia is a free-to-use site that makes money from advertising. We have a modified experience for viewers using ad blockers

Wikia is not accessible if you've made further modifications. Remove the custom ad blocker rule(s) and the page will load as expected.