Starman pode referir-se a: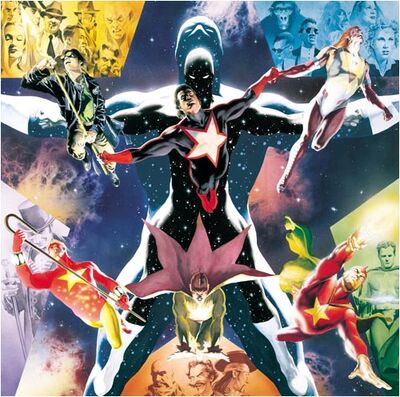 Starman

II, originalmente Batman da Terra 1 no Pré-Crise, que mudou o motivo de seu uniforme e aparatos depois que Hugo Strange inspirou fobia de morcegos no herói; no Pós-Crise, o Starman II foi Doutor Meia Noite I, que tomou o manto de Starman quando Ted Knight internou-se num sanatório.
Starman (Mikaal Tomas)

, alien azul

Starman (Gavyn)

, de Throneworld

Starman (David Knight)

, filho primogenito de Ted Knight

Starman (Jack Knight)

, caçula de Ted Knight

Starman (Thom Kallor) , originalmente o Astron da Legião dos Super-Heróis
Starman (Farris Knight)

, Starman do século 853.
Ad blocker interference detected!
Wikia is a free-to-use site that makes money from advertising. We have a modified experience for viewers using ad blockers

Wikia is not accessible if you've made further modifications. Remove the custom ad blocker rule(s) and the page will load as expected.