link Nenhum
Base Cost 450 (Self-Link já calculado)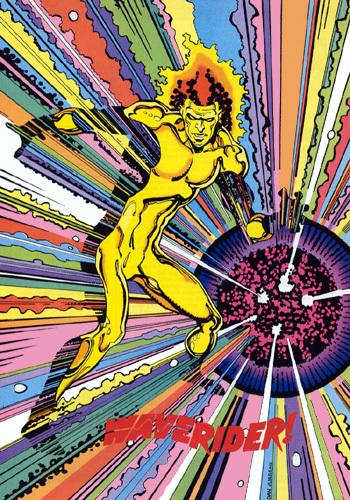 Factor Cost 4
Alcance Auto
Tipo Automático
O poder Self-Link (Time Travel) [Auto-Ligação (Viagem no Tempo)] permite ao personagem tornar-se um ser feito inteiramente de energia cronal. O poder mantém-se ativo enquanto o usuário desejar (gastando-se uma Ação Automática a cada fase) ou até que ele é feito inconsciente.

Para efeitos de jogo, você pode:
Viajar no tempo, exatamente como o poder Time Travel;
Não necessita comer, dormir, beber e respirar (sendo imune a gases, venenos, afogamento e ao vácuo do espaço)
Adiciona os APs de poder a RV contra qualquer poder baseado em tempo (Time Travel de outros, Time Stop, Time Control, etc).
O personagem não envelhece.
Em adição, você tem uma resistência a ser apagado da linha temporal; você pode continuar sobrevivendo como uma anomalia temporal.
Tempus (Waverider) tem este poder.
Ad blocker interference detected!
Wikia is a free-to-use site that makes money from advertising. We have a modified experience for viewers using ad blockers

Wikia is not accessible if you've made further modifications. Remove the custom ad blocker rule(s) and the page will load as expected.