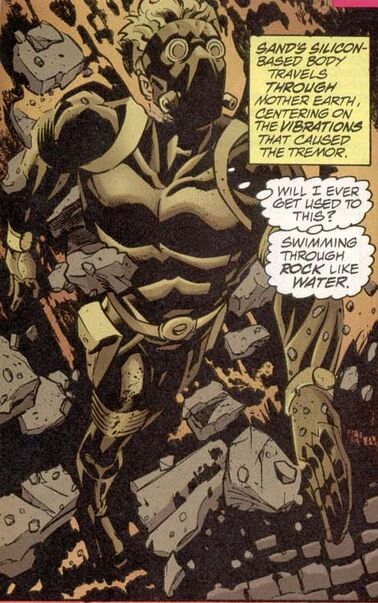 link Nenhum
Base Cost 70 (Self-Link já calculado)
Factor Cost 6
Alcance Auto
Tipo Automático
Self-Link (Earth Control) [Auto-Ligação (Controlar Terra)]: permite tornar-se um ser feito de rochas ou areia. Em efeitos de jogo isto permite:
adquirir FORÇA E CORPO de materiais encontrados no solo (Máx. de APs igual aos APs de poder).



Permite "fundir-se" a terra e andar por dentro dela como se estivesse nadando em água (Máx. APs de velocidade igual aos APs de poder menos o CORPO do material, use a tabela de Digging).

O personagem pode sobreviver no Plano Elemental da Terra.



O poder também garante Joined igual aos APs de poder.
Ad blocker interference detected!
Wikia is a free-to-use site that makes money from advertising. We have a modified experience for viewers using ad blockers

Wikia is not accessible if you've made further modifications. Remove the custom ad blocker rule(s) and the page will load as expected.