link Nenhum
Base Cost 70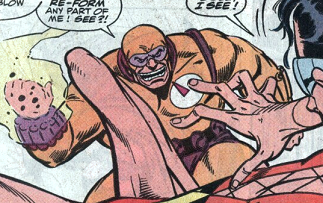 (Self-Link já calculado)
Factor Cost 4
Alcance Auto
Tipo Automático
O poder Self-Link (Bomb) [Auto-Ligação (Explosão)] permite ao personagem tornar-se uma explosão.
Você pode explodir o próprio corpo como se o poder Bomb fosse usado. Na próxima fase o personagem reforma automaticamente as partes do corpo explodidas e pode novamente usar o poder. Se usados mais APs de poder que os APs de Corpo do usuário, ele pode escolher ficar desincorporado por um tempo máximo igual aos APs de poder, quando então se reintegra. No periodo que fica desincorporado, ele não pode receber nem realizar ataques físicos.
O obscuro vilão Bomba-Relógio tem este poder.
Ad blocker interference detected!
Wikia is a free-to-use site that makes money from advertising. We have a modified experience for viewers using ad blockers

Wikia is not accessible if you've made further modifications. Remove the custom ad blocker rule(s) and the page will load as expected.