link Força
base Cost 15
Factor Cost
2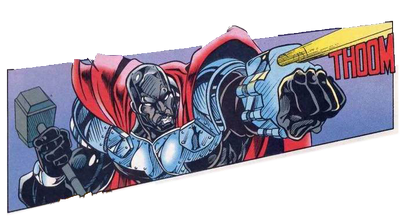 Alcance Normal
tipo Dados
O poder Projectile Weapons (Armas Projéteis) permite disparar projéteis a partir do próprio corpo. Estes projéteis podem ser balas, espinhos, pedaços de ossos, metal, etc, especificados na compra do poder.
Usa-se AV Destreza ou APs de Weaponry (firearms) e EV APs de Projectile Weapons. A OV/RV será Destreza/CORPO do inimigo. Não se pode variar o impacto dos projéteis; eles são sempre em totais APs.
O poder não pode ser comprado com a limitação Sem Alcance.
Ad blocker interference detected!
Wikia is a free-to-use site that makes money from advertising. We have a modified experience for viewers using ad blockers

Wikia is not accessible if you've made further modifications. Remove the custom ad blocker rule(s) and the page will load as expected.