As Potências do Eixo se referem não somente aos nazistas, mas também aos facistas italianos e japoneses durante a Segunda Guerra .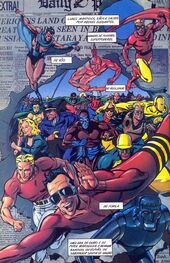 Era de Ouro

Este personagem habitou a Terra durante a Era de Ouro (1938 a 1955). Provavelmente o (a) personagem foi um herói/heroína com fortes ideais e sentimentos patrióticos, ou mesmo um(a) vilã(o) que preferia prender um herói em alguma mirabolante armadilha do que simplesmente meter-lhe uma bala na cabeça. O personagem pode ter lutado na Segunda Guerra Mundial (a favor dos Aliados ou Eixo), passou apertos durante a Grande Depressão, assistia cinejornais sobre o progresso da guerra no cinema, ouvia novelas pelo rádio, juntava bônus de guerra pra comprar manteiga, etc.
Este template deve categorizar artigos inclusos na categoria "Era de Ouro"
Ad blocker interference detected!
Wikia is a free-to-use site that makes money from advertising. We have a modified experience for viewers using ad blockers

Wikia is not accessible if you've made further modifications. Remove the custom ad blocker rule(s) and the page will load as expected.