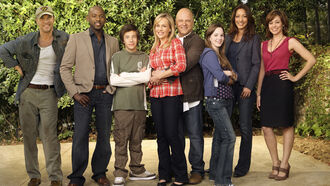 No Ordinary Family (BR: Os Powells / PT: Os Incríveis Powells) foi uma série de televisão norte-americana na ABC. A mistura de ficção científica com comédia dramática, com episódios de 45 minutos, foi produzido pela ABC Studios para a temporada 2010-11 da televisão. A série durou de 28 de setembro de 2010 a 05 abril de 2011. A trama é centrada nos Powells, uma família típica americana vivendo na cidade fictícia de Pacific Bay, Califórnia, cujos membros ganham poderes especiais após a queda do avião em que estavam, durante uma viagem de férias, no Rio Amazonas (mais precisamente, em Belém/PA).
Personagens
Edit
Ad blocker interference detected!
Wikia is a free-to-use site that makes money from advertising. We have a modified experience for viewers using ad blockers

Wikia is not accessible if you've made further modifications. Remove the custom ad blocker rule(s) and the page will load as expected.