link AURA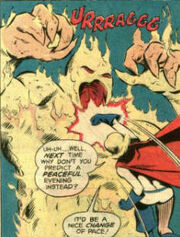 Base cost 25
Factor Cost 7
Alcance Normal
tipo Automático
Flame Animation (Animação de Chamas) permite evocar uma criatura feita de fogo. Divide-se os APs de poder entre 2 números: um servirá como os atributos de Ação (no caso DEX e INFL) e atributos de Efeito e Resistência(FORÇA e AURA, CORPO e ESPÍRITO). Criaturas de fogo tem Flame Being igual a seus APs de AURA e não tem atributos Mentais, sendo imune a Ataques Mentais. Devido a natureza desta criatura, ela ganha -2 colunas na RV contra ataques de frio ou água. A criatura tem movimento igual a DEX e ocupa volume igual a sua FORÇA. A criatura mantém-se ativa por um período de tempo (em APs) igual aos APs de poder, ponto no qual ela se dissipa.

Fredric Vaux tem este poder.
Ad blocker interference detected!
Wikia is a free-to-use site that makes money from advertising. We have a modified experience for viewers using ad blockers

Wikia is not accessible if you've made further modifications. Remove the custom ad blocker rule(s) and the page will load as expected.