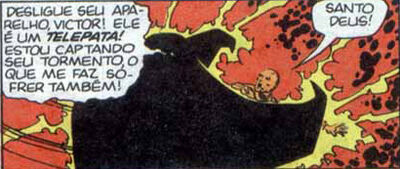 link Vontade
Base Cost 10
Factor Cost 3
Alcance Normal
Tipo Dados
Empathy (Empatia) permite saber que emoção um ser vivo está sentindo. Faz-se um teste utilizando os APs de poder como AV/EV contra OV/RV INT/MENTE do alvo, com RAPs positivos indicando a emoção do alvo; pode-se também definir a causa das emoções com um acerto de 5 RAPs ou mais. Não há maneiras de mascarar as verdadeiras emoções ante este poder, nem com Artist (Actor).
Note que se o alvo for um telepata (ou seja, alguém com o poder Telepathy) o personagem com Empathy deve sentir toda a dor que ele sente; qualquer dano recebido pelo alvo incorre em um ataque mental com os RAPs de dano como AV/EV contra INT/MENTE do Empata, com novos RAPs sendo tomados como dano mental.
Ravena dos Novos Titãs tem este poder.
Ad blocker interference detected!
Wikia is a free-to-use site that makes money from advertising. We have a modified experience for viewers using ad blockers

Wikia is not accessible if you've made further modifications. Remove the custom ad blocker rule(s) and the page will load as expected.