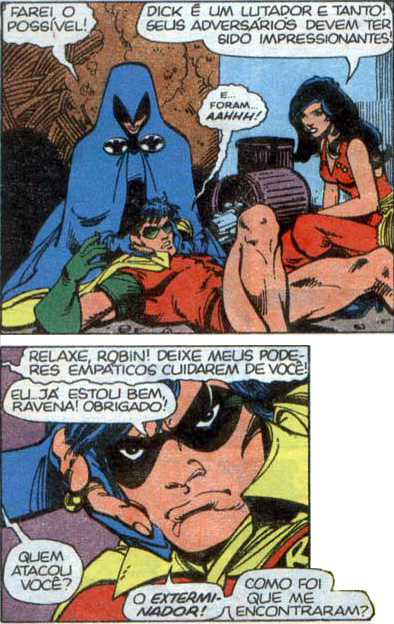 link
Vontade
Base Cost 15
Factor Cost 5
Alcance Toque
Tipo Automático
O personagem com Damage Transference (Transferência de Dano) pode curar as feridas físicas de outros seres e tomar o dano para si mesmo. O uso leva 4 APs de tempo (15 fases), quando o usuário deve permanecer este tempo tocando o paciente. No fim, o número de APs de poder irão eliminar o mesmo número de pontos de dano no paciente. Assim que a cura ocorre, o usuário sofre o risco de ser ferido no processo. Jogue os RAPs de dano que foram curados no paciente como AV/EV, e a INT/Mente do usuário como OV/RV. RAPs serão distribuídos como dano entre a Mente e o Corpo do usuário de maneira aleatória.
O poder pode ser comprado com os seguintes bonus:
Cura tipo de dano adicional (+2 FC cada) Uma Damage Transference que cura dano físico, mental e místico teria Factor Cost 9 desta forma.
Usuário não sofre risco de injúria (+3 FC)
Sem limitação de tempo (+2 FC)
Ad blocker interference detected!
Wikia is a free-to-use site that makes money from advertising. We have a modified experience for viewers using ad blockers

Wikia is not accessible if you've made further modifications. Remove the custom ad blocker rule(s) and the page will load as expected.