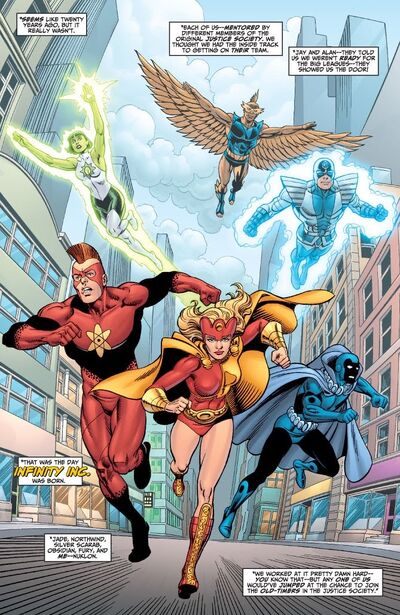 Corporação Infinito foi um grupo de super-heróis cujos integrantes eram filhos e protegidos dos membros da Sociedade da Justiça.
O grupo foi formado primariamente porque seus membros não foram aceitos na Sociedade da Justiça; como seu primeiro caso, eles enfrentaram o Ultra-Humanóide. O grupo dissolveu-se após a morte de Celestial. Seus membros foram vistos esporadicamente desde então, com alguns fazendo parte de encarnações obscuras da Liga da Justiça.
Lista de Membros
Edit
Sideral (Star-Spangled Kid) mais tarde, rebatizado como Celestial (Skyman)
Onda Mental Jr. (Brainwave Jr.), filho do supervilão original Onda Mental (Brain Wave) (nota: por vezes traduzido como Neuron, no Brasil)
Membros tardios
Edit
Tanatos (Mister Bones) , ex-inimigo da Infinity, Inc., solto sob sua custódia.
Ad blocker interference detected!
Wikia is a free-to-use site that makes money from advertising. We have a modified experience for viewers using ad blockers

Wikia is not accessible if you've made further modifications. Remove the custom ad blocker rule(s) and the page will load as expected.