link FORÇA
base Cost 10
Factor cost
2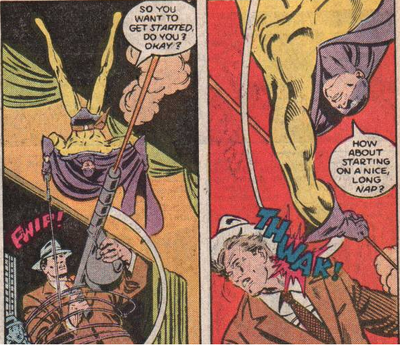 Alcance Toque
tipo Automático
O poder Cling (Escalar) permite fixar-se a superfícies íngremes, como paredes e teto, escalando-as como uma aranha. Uma vez que o poder é automático, só é necessário jogar quando há situações adversas na superfície escalada (como parede oleosa ou dum material escorregadio). Pode-se somar os APs de Cling a perícia Acrobatics (Climbing) ou meramente usar os APs de poder como APs de Climbing nessas situações. O poder permite carregar um peso igual aos APs de poder, desde que este não ultrapasse os APs de Força.
Ad blocker interference detected!
Wikia is a free-to-use site that makes money from advertising. We have a modified experience for viewers using ad blockers

Wikia is not accessible if you've made further modifications. Remove the custom ad blocker rule(s) and the page will load as expected.