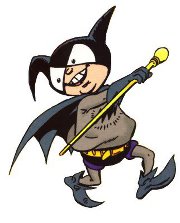 Atributos
Edit
Destreza: 10 Força: 2 Corpo: 10
Iniciativa: 18 HERO POINTS: 175
PODERES: 
Edit
Air Walking: 15, Animate Image: 25, Animate Objects: 25, Dimension Travel: 12, Invisibility: 15, Matter Manipulation: 25, Omni-Power: 25, Super Ventriloquism 10, Teleportation: 25 limitações: Dimension Travel só permite a Bat-Mirim Viagem entre o plano da Terra e da "Dimensão Mirim" (Distancia 11). Todos os efeitos de poderes de Bat-mirim somem quando ele retorna a sua Dimensão (-1 FC).
VANTAGENS:
Edit
Area Knowledge
(Dimensão Mirim),
Connections
: Batman (baixa)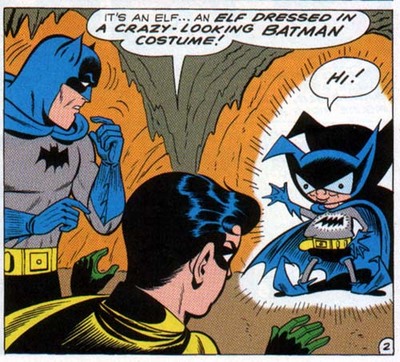 DESVANTAGENS:
Edit
Catastrophic Irrational Attraction em "ajudar" Batman (embora atrapalhe mais do que ajude), Innocent
Bat-Mirim é um duende extradimensional que é o maior fã do Batman, tentando ajudá-lo, mas atrapalhando ao invés. Não estão ligado as regras da terceira dimessão pode executar qualquer feito que seja ou aparente ser mágico sendo essencialmente onipotente. 
Ad blocker interference detected!
Wikia is a free-to-use site that makes money from advertising. We have a modified experience for viewers using ad blockers

Wikia is not accessible if you've made further modifications. Remove the custom ad blocker rule(s) and the page will load as expected.